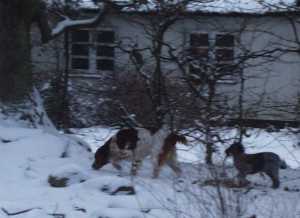 I had two dogs: Milou, who died in December 2000, and Marie, from 1999.
The above picture was taken in 1999 in our garden.
Milou died just 12 years old. His kidneys were very bad, he couldn't hear, and he suffered a lot. Had he been human, he would have been a dialysis patient. He had the most wonderful nose, and he knew exactly how many birds he was setting and he came back until they were all up on the wings. But he had a difficult temper, running away and being afraid of other dogs, and he was not fond of reteiving.
He was my first dog, and undoubtedly a lot of his shortcomings were due to my shortcomings as a trainor. We had some wonderful experiences as well as a few bad ones, and it was very hard taking him to the vet for the last time.